Alfred is the fourth
Triapodon
brother.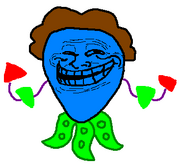 Appearance
Edit
Alfred was most likely born with a freakish mutation, because he has only two blades on his arms, an afro, tentacles instead of stubby little legs, no tail, and a Trollface instead of beady little eyes.
Personality
Edit
Alfred was always forgotten, because everyone only remembered Squinky, Blinky, and Charles. He decided to seek revenge so he antagonized the WolduWarriors and joined forces with Shadowbutt.
Alfred's face is the infamous Trollface.