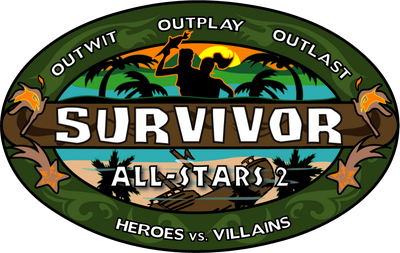 Survivor Heroes Vs Villains 2 is taking place is the Easter Island, 20 Castaways from Survivor's Past will now compete to win
Previous Season: Survivor: Persia
Next Season: Survivor: Easter Island
Contestants
Edit
Contestant
Original Tribe
Merged Tribe
Finish
Total Votes
Andrea Boehlke
25,Random Lake, WI
Redemption Island
Heroes
1st Voted Out
Day 3
9
Brendan Synnott
36,New York City, NY
Tocantins
Heroes
2nd Voted Out
Day 6
7
Lydia Person
49, Los Angeles, CA
Persia
Villains
3rd Voted Out
Day 8
9
Todd Herzog
30, Pleasant Grove, UT
China
Villains
4th Voted Out
Day 11
3
Kim Spradlin
32, San Antonio, TX
One World
Heroes
5th Voted Out
Day 14
7
Nany Gonzalez
26, Costa Rica
Persia
Villains
6th Voted Out
Day 15
2
Spencer Bledsoe
22, Chicago, IL
Cagayan
Heroes
7th Voted Out
Day 15
4
Natalie Anderson
28, Edgewater, NJ
San Juan del Sur
Villains
8th Voted Out
Day 18
5
Nick Jones
20, Washington DC
Persia
Heroes
9th Voted Out
1st Jury Member
Day 21
4
Jason Holmes
27, Rosewood, PA
Persia
Villains
10th Voted Out
2nd Jury Member
Day 24
1
Katie Collins
27, New York City, NY
Blood vs. Water
Heroes
Yi Yang
11th Voted Out
3rd Jury Member
Day 27
6
Richard Hatch
53, Middletown, RI
Borneo
Villains
12th Voted Out
4th Jury Member
Day 30
8
Rob Cesternino
36, Wantagh, NY
The Amazon
Villains
13th Voted Out
5th Jury Member
Day 31
6
John Cochran
28, Washington DC
South Pacific
Villains
14th Voted Out
6th Jury Member
Day 33
5
Alicia Rosa
26, Chicago, IL
One World
Villains
15th Voted Out
7th Jury Member
Day 36
4
Danielle DiLorenzo
33, Pompano Beach, FL
Panama
Villains
16th Voted Out
8th Jury Member
Day 37
4
Hayden Moss
28, Springtown, TX
Blood vs. Water
Heroes
17th Voted Out
9th Jury Member
Day 38
3
Stephanie LaGrossa
35, Glenolden, PA
Palau
Heroes
Second
Runner-Up
2
John Kenney
33, Los Angeles, CA
Vanuatu
Heroes
Runner-Up
1
Jefra Bland
22, Campellsville, KY
Cagayan
Heroes
Sole Survivor
0
Episode 1- "Welcome to Easter Island"
Edit
20 returning players arrive in Easter Island where they learn that this is Heroes vs Villains 2. At the Heroes camp Kim pulls over Katie and wants to make a deal with her. At the Villains camp Rob thinks that Jason or Nany shouldn't be a villain. At the reward challenge it was a game of capture the flag. The Heroes won 3-2 score. The Villains were pissed when they hear that they did not win reward. At Immunity Villains fought hard and they won, Heroes go to Tribal. Everyone is talking about how this is Andrea's fault because she was the weakest. Andrea makes a plan to get rid of Stephanie, John rats her out. At Tribal Council Andrea is Unanimously voted out 9-1, Andrea voted for Stephanie.
Episode 2- Karma's a Bitch"
Edit
Everyone is disappointed by the Heroes loss. Hayden and John plan to win the next immunity challenge. Kim points out that everyone is sleeping and not doing any work at all. This is the worse wiki page ever made.