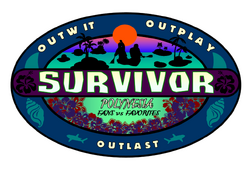 Generic Fans vs. Favorites season. You know the drill.
Previous Season: Survivor: Philippines
Next Season: Survivor: India
Contestants
Edit
Contestant
Original Tribe
Switched Tribe
Merged Tribe
Finish
Total Votes
Troyzan Robertson
51, Miami, FL
Lekeleka
1st Voted Out
Day 3
Jackie Faus
27, Ann Arbor, MI
Nukulei
2nd Voted Out
Day 6
Tara Latterly
41, Wichita, KS
Nukulei
3rd Voted Out
Day 8
Ken Hoang
27, Westminster, CA
Lekeleka
4th Voted Out
Day 11
Byron Tennyson
62, Marquette, MI
Nukulei
Lekeleka
Evacuated
Day 13
Kaitlyn DeCarlo
24, New York, NY
Nukulei
Nukulei
5th Voted Out
Day 14
Holly Hoffman
47, Eureka, SD
Lekeleka
Nukulei
6th Voted Out
Day 17
Eve Galloway
22, Marina Del Rey, CA
Nukulei
Lekeleka
7th Voted Out
Day 17
Michael "Mickey" Zzyzwicz
31, Casper, WY
Nukulei
Lekeleka
8th Voted Out
1st Jury Member
Day 20
Rachael Therian
30, Lansing, MI
Nukulei
Nukulei
9th Voted Out
2nd Jury Member
Day 23
RC Saint-Amour
27, New York, NY
Lekeleka
Nukulei
Lito
10th Voted Out
3rd Jury Member
Day 26
Stephen Fishbach
34, New York, NY
Lekeleka
Nukulei
11th Voted Out
4th Jury Member
Day 29
Natalie Bolton
37, Los Angeles, CA
Lekeleka
Nukulei
12th Voted Out
5th Jury Member
Day 32
William "Will" Riviera
24, San Francisco, CA
Nukulei
Nukulei
13th Voted Out
6th Jury Member
Day 35
Austin "Skyler" Rey
26, Boston, MA
Nukulei
Lekeleka
14th Voted Out
7th Jury Member
Day 36
Shane Powers
42, Los Angeles, CA
Lekeleka
Lekeleka
15th Voted Out
8th Jury Member
Day 37
Miguel Sanchez
25, Chicago, IL
Nukulei
Nukulei
16th Voted Out
9th Jury Member
Day 38
Marty Piombo
51, Mill Valley, CA
Lekeleka
Lekeleka
Second Runner-Up
Erinn Lobdell
30, Waukesha, WI
Lekeleka
Lekeleka
Runner-Up
Peih-Gee Law
34. Malibu, CA
Lekeleka
Lekeleka
Sole Survivor
Sprint Player of the Season - Miguel Sanchez
Voting Table
Edit
coming soon tbh
Community content is available under
CC-BY-SA
unless otherwise noted.