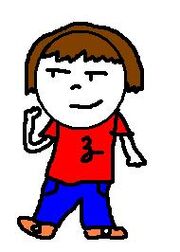 Zeke is one of the WolduWarriors. He is an all-around character, meaning he is good at everything.
Zeke is sorta fast and likes to be inappropriate at times. He likes to go to Camp Discovery with his best friends Calvin, Steven and Will. (This is his 6th year going!) He has very, very long brown hair and bangs. His outfit hasn't changed: it is a red T-shirt with a cursive Z on it, blue jeans and Crocs. He wore glasses in the first game but not in the second or upcoming games.
Zeke is an all-around character, meaning he is pretty good at everything but doesn't excel at speed (Calvin) strength and defense (Will) and ammo attacks (Steven). His attack gotten by training with Mo is Cool Punch, which usually KOs enemies. Zeke is playable from the very start in both games.